Feb. 20, 2020
For Immediate Release
Print | PDF
WATERLOO – Wilfrid Laurier University's Department of Biology will welcome Biruté Mary Galdikas, a renowned primatologist, conservationist and professor at Simon Fraser University, for a public lecture at Laurier's Waterloo campus on March 9 to launch the Anne Innis Dagg Lecture Series.
Established to honour the ground-breaking work of its namesake, Waterloo zoologist Anne Innis Dagg, the lecture series will celebrate her achievements by inviting notable Canadian women studying animal biology to share their work. Innis Dagg was the first person to study the behaviour of giraffes in the wild and co-authored (with J. Bristol Foster) The Giraffe: Its Biology, Behaviour and Ecology, widely considered to be the most influential book about the species.
After more than 50 years of study, Galdikas has become the world's foremost authority on the orangutans of Indonesian Borneo in their natural habitat. With the exception of Jane Goodall's work, Galdikas' research is the longest continuous study of any single wild mammal population undertaken by a principal investigator. At Laurier, Galdikas will discuss her work and accomplished career in a talk entitled "Barriers, Obstacles and Success: Working with Orangutans in Borneo."
"For our inaugural lecture, we are absolutely thrilled that Dr. Galdikas has agreed to speak," said Matthew Smith, professor and chair of Laurier's Department of Biology. "Dr. Galdikas – one of the so-called 'Trimates' or 'Leakey's Angels,' along with Jane Goodall and Dian Fossey – is among the highest-profile scientists working in Canada and we couldn't think of a more appropriate person to launch the series."
Galdikas will also discuss the challenges she has faced as a woman in science, a subject Innis Dagg has bravely championed throughout her career.
Innis Dagg struggled to find work as a professor in Ontario during the 1970s and was never hired for a permanent full-time academic position. Despite the sexism she faced, she continued her research for decades and widened her focus to include inequality in science and the education system. Innis Dagg's personal story was the focus of the 2018 documentary film The Woman Who Loves Giraffes and she was recently appointed a member of the Order of Canada.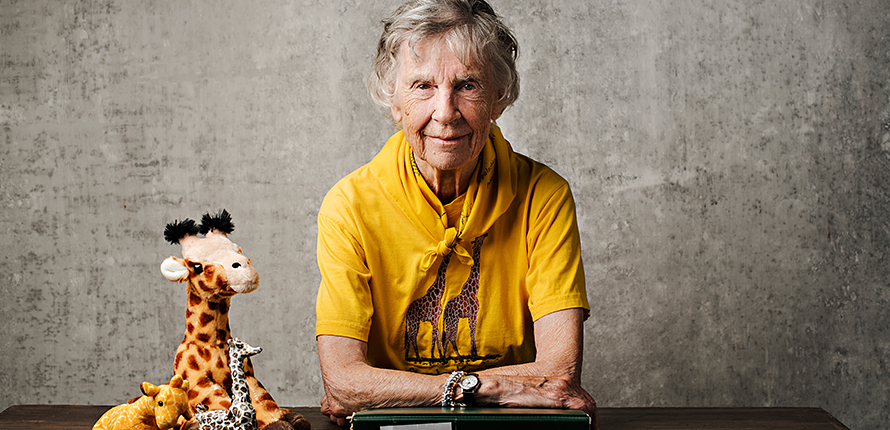 Anne Innis Dagg in a portrait by Hilary Gauld from Eden Hennessey's "#TurningTablesinSTEM: A photo-research exhibit celebrating girls and women in science."
"Anne Innis Dagg is and was an inspiration to those who have sought a future that was different from the one expected of them and one limited by systemic barriers," said Laurier President and Vice-Chancellor Deborah MacLatchy. "Through it all, her commitment to her scientific passions will leave an important legacy. We welcome the opportunity to acknowledge all that she has accomplished for women and for science."
Innis Dagg will attend Galdikas' talk on March 9. The public is invited to attend from 6:30 to 9 p.m. at the Maureen Forrester Recital Hall, 75 University Ave. W. Admission is free. Please RSVP by email to bioadmin@wlu.ca.