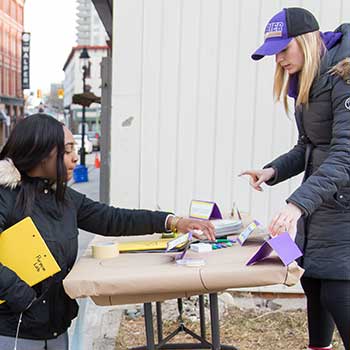 Social Justice and Community Engagement (MA)

 brantford
Print | PDF
Faculty of Liberal Arts  |  Faculty of Graduate and Postdoctoral Studies
Want to change the world? Our program fosters your ability to investigate and understand the root causes of the most pertinent social justice and environmental issues of our times. Through a combination of critical theory, methods, and an individualized community placement our Master of Arts (MA) program in Social Justice and Community Engagement (SJCE) engages students in the active promotion of social and environmental justice principles within our communities and around the world.
Learning Through Scholarship and Practice
Through coursework, an individualized community placement and a major research project (MRP), you'll develop knowledge that contributes to your own understanding of how to make change in the world. You'll be equipped with skills to facilitate the development of communities that undertake social justice and environment work. Our program provides a firm grounding in the theories and methods of SJCE, and builds your research and writing capabilities through a variety of projects. Your community placement is an opportunity for you to gain practical experience applying theoretical ideas about social and environmental justice in a community setting. Placements are determined with consideration for your interests and needs, including any accommodations, while ensuring that the community organizations are benefitted by the placement.
The full-time program is normally completed in one year. We also offer a part-time program. 
ARE YOU AN INTERNATIONAL STUDENT? 
More information can be found on the International Applicants page.