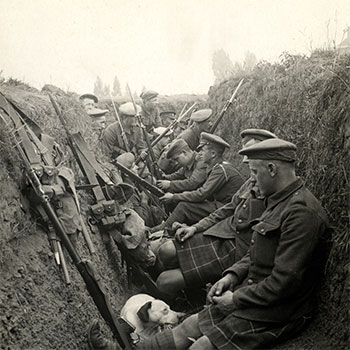 History (MA)

 waterloo
Print | PDF
Faculty of Arts  |  Faculty of Graduate and Postdoctoral Studies
Our Master of Arts (MA) in History program is part of the Tri-University Graduate Program in History, a partnership of Laurier, the University of Waterloo and the University of Guelph. The integration of history departments makes this program one of the biggest graduate history programs in Canada, while retaining the small classes and supportive professor-student relationship associated with History at Laurier.
Small Class Sizes and Attentive Mentoring
We are deeply committed to teaching and to your scholarly development. You'll take part in great discussions with faculty and your colleagues in seminars designed for MA students only. The classes you will attend will never have more than 12 students.
You'll receive personal attention from active researchers. The close student-professor relationship is important to us. Our dedicated faculty can support you in the widest possible range of research interests and can help you fulfil your academic and professional objectives.
A Wealth of Resources and Flexibility
Although you'll have the attention of one department, you'll have access to the resources of three of the largest graduate history programs in the country. This means you'll benefit from:
The scholarship, research and teaching experience of more than 65 graduate faculty members.
A peer group of about 60 MA students.
More than 20 courses in subjects ranging from Canada's First Nations and early-modern history to the Vietnam War, human rights, and cultural history.
The combined library resources of Laurier, the University of Guelph and the University of Waterloo.
The annual Tri-University Conference that provides an early and supportive environment in which to present your research.
Program Options
This is a 12-month program and you have three program options of study:
The Major Research Paper option includes six seminar courses and a major research paper with an oral defence.
The Coursework option includes eight seminar courses and a requirement to write a research paper in at least three of the eight courses.
The Thesis option includes four seminar courses and a thesis with an oral defence.
ARE YOU AN INTERNATIONAL STUDENT? 
More information can be found on the International Applicants page.