A new collaboration among campus partners at Wilfrid Laurier University will reduce the amount of personal protective equipment (PPE) that ends up in landfills.
The Sustainability Office, the Ecohawks club at Laurier's Brantford campus and the Students' Union have installed PPE recycling bins across Laurier campuses in Brantford and Waterloo. PPE collected through the bins – including disposable gloves and face masks – will be sterilized and formed into pellets by third-party vendor LifeCycle Revive in Brantford. The pellets can be used to create nonwoven textiles for masks, disposable isolation gowns and injection-molded items used in healthcare settings.
The bins are strategically located around Laurier's campuses to capture PPE used by students in labs and by custodial staff. The Sustainability Office estimates the bins can divert nearly 30,000 pairs of disposable gloves used by Laurier staff and students each year.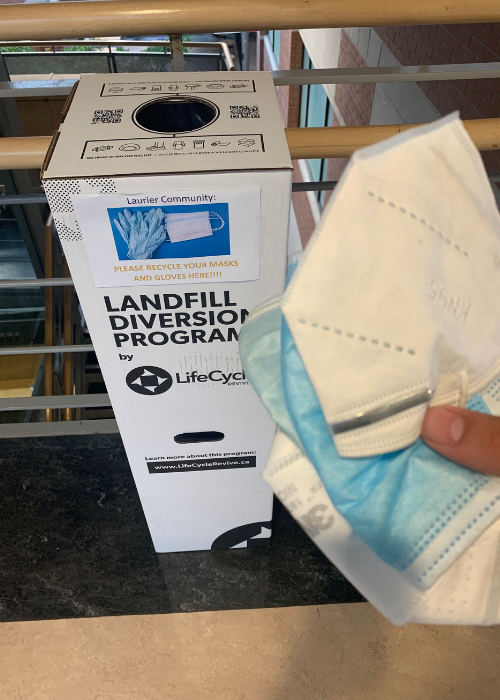 "Finding a sustainable solution to address the waste stream created by single-use masks and other pieces of personal protective equipment was an important collaborative effort between the Sustainability Office, Custodial Services and our Student's Union," says Eric Meliton, manager of the Sustainability Office at Laurier. "We are pleased to be working with LifeCycle Revive and hope students, staff and faculty will use the recycling bins to help keep our community healthy and green."
Laurier faculty, staff and students are encouraged to dispose of PPE in the recycling bins. PPE recycling bins are located in the following campus buildings:
Waterloo
Science: first floor by Tim Hortons; third floor by the glass elevator
Science Research: second and fourth floors near the elevator
Bricker Academic: first floor, parking lot entrance
Cold Regions Research Centre: first floor by the elevator
Northdale campus: first floor by the front entrance
Student Services: second floor by the Wellness Centre
Arts: third floor by Room 3C02
Peters/Schlegel: first floor by Room SB101
Dr. Alvin Woods: first floor by the main entrance
Athletic Complex: first floor by the main entrance
Brantford
Student Centre: second floor in the Wellness Centre hallway
One Market: first floor by the elevator and central bins; second floor in the lounge
Grand River Hall: first floor in the lounge
Research and Academic Centre West: first floor by Room 111
Questions about the PPE recycling bins can be directed to sustainability@wlu.ca.