From its roots just a few years ago as a small student venture working to reduce the number of plastic toiletry bottles in hotels, Enactus Laurier's EarthSuds has expanded and grown at an incredible rate.
EarthSuds has seen sales growth of about 21 per cent month over month since it first launched, with hundreds of thousands of its single-use shampoo, body wash and conditioner tablets sold to customers around the world. The soaps are mainly sold through its online store, but they can also be found in more than 70 retail stores across North America.
With news that Laurier's Waterloo Enactus team would represent Canada at the Enactus World Cup in October for the second year in a row, EarthSuds has plans to further ramp up sales and production.
"We're preparing for the World Cup by really ensuring that every aspect of EarthSuds is being taken care of," says Lindsay Puls, enterprise manager at EarthSuds. "We're building up our brand and spreading the word, but we're also ensuring that we have a stable business, a secure supply chain and that everything is moving as efficiently as possible."
Last year, the team – with representatives from Laurier Enactus ventures EarthSuds, Last20, Mighty Hawks and Smile Tabs – was named runner-up at the World Cup, behind Egypt. Laurier's team also won the 1 Race 4 Oceans challenge, which recognizes students who are taking action to address issues facing the world's oceans, including pollution, overfishing and climate change.

Laurier Enactus's video presentation, which helped them win the Enactus Canada competition in May.
EarthSuds was founded in 2017 by Laurier business students Marissa Vettoretti and Daniel Moll, who realized that the small plastic shampoo and conditioner bottles in hotels are too small to be recycled and end up in landfills. With help from chemistry students, they designed single-use soap tablets, which dissolve when crushed in water and lather like regular soap.
EarthSuds has been part of LaunchPad, Laurier's startup incubator, as well as the Accelerator Centre in Waterloo. The tablets were originally produced by hand on campus, then they moved to the 44 Gaukel Creative Workspace after the campus was closed due to the pandemic. Now EarthSuds, which is run by close to 40 Laurier student volunteers, is looking to expand again.
"We were running out of product," says Puls. "We had been talking about automating production for a long time but, when we got our Christmas rush, we knew it was time. We were working really long hours preparing orders and we just couldn't sustain it. Having too many sales is definitely a good problem to have."
EarthSuds has signed a deal with a New York-based manufacturer, which will complete the first major production run of the single-use tablets in the next few weeks. The manufacturer has the capacity to continue increasing production as the company grows. Once they're made, the soaps will be sent out through fulfillment centres in both New York and in Cambridge, Ont.
Though many of its customers are based in the U.S., EarthSuds is working with alumni in the industry, including Dan Einwechter (BBA '77), owner of Challenger Motor Freight, on the logistics of moving products from the U.S. to Canada to ensure costs are kept low for customers in both countries.
With its commitment to inclusive hiring, EarthSuds has employed adults with developmental disabilities in production roles through another Laurier Enactus venture, Mighty Hawks. This opportunity enables graduates of the Might Hawks' work-readiness program to gain experience, build confidence and earn a paycheck. With manufacturing moving to the United States, EarthSuds is working with its Canadian fulfillment centre to find new opportunities for the Mighty Hawks participants there.
"We can see the immense value the work-readiness program had on the participants, so it's not something we want to compromise on," says Puls. "We want to try to find a way to keep it going, whether it's in the Cambridge facility or elsewhere."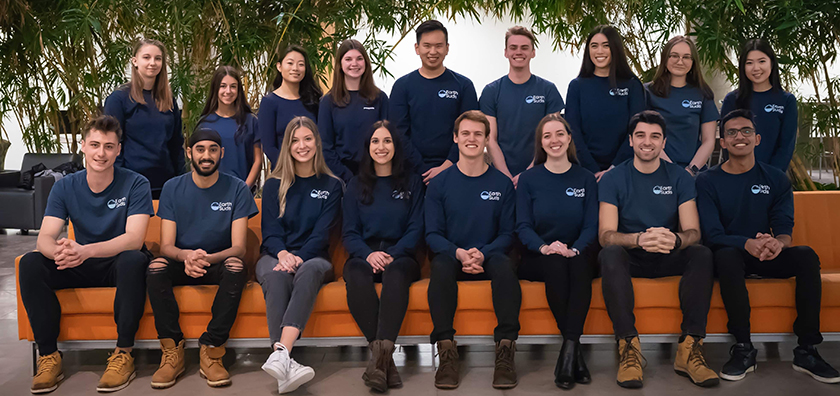 EarthSuds employs close to 40 Laurier students. 
EarthSuds is also partnering with AMZ Prep, founded by recent Laurier alumnus Blair Forrest, to sell their products on Amazon.com. AMZ Prep helps third-party sellers navigate selling through Amazon and also offers a 110,000-square-foot warehouse in Brampton for its customers. With no other single-use tablets like it on Amazon, there is market potential to bring in many more customers.
Though EarthSuds is focusing on reaching its customers directly in the short-term, expanding into hotels is still a long-term goal. Recently, two university students in Germany created a prototype dispenser for EarthSuds. The dispenser would be placed in hotel bathrooms and would dispense a shampoo, conditioner or body wash tablet when the guest pressed a button.
After winning the Enactus Canada competition in May, Laurier's Waterloo Enactus team will compete against university students from 34 countries for the global title at the virtual Enactus World Cup from Oct. 14 to 21. Laurier's team will also be competing again as a finalist in the global 1 Race 4 Oceans Challenge. Registration is free and open to everyone.
Though deliveries may be delayed until the beginning of October, while EarthSuds completes its first major production run, you can still support EarthSuds by purchasing shampoo, body wash and conditioner tablets through the website using the discount code FRIENDSANDFAMILY15 before Sept. 28.