Few summer jobs enable students to make money, accumulate hands-on research experience and prepare themselves for graduate studies, yet eight Indigenous undergraduate students at Wilfrid Laurier University had the opportunity to do just that. In summer 2021, they each participated in the Natural Sciences and Engineering Research Council of Canada's Undergraduate Student Research Award (USRA) program.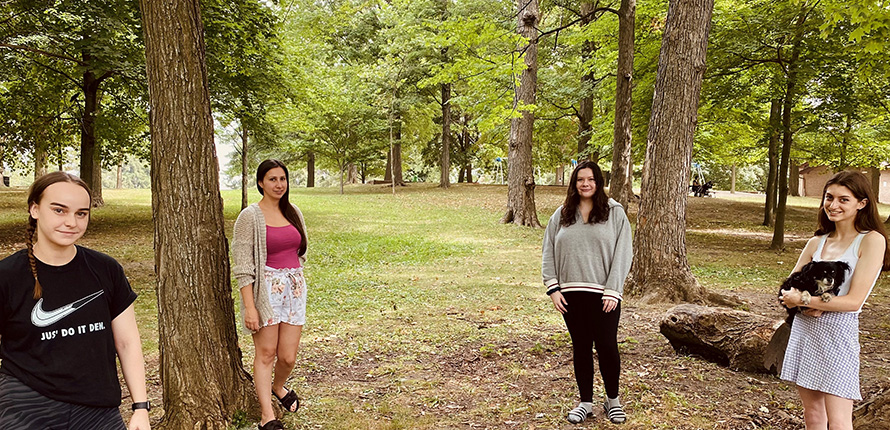 USRA participants Baillie Schmitz, Stephanie Absalom, Lauren McConnell and Jazlyn Salema.
The USRA program provides funding for undergraduate students to work with faculty mentors on a research project. Its mission is to develop student potential for research careers in natural sciences and engineering and encourage them to pursue graduate studies in those fields.
Laurier's Office of Research Services and Office of Indigenous Initiatives worked closely in early 2021 to encourage Indigenous students to apply for these full-time, 16-week positions.
"I hope the students came away from the USRA program with more confidence and a deeper understanding of research and academic work," says Emily Daniel, acting manager of Indigenous Student Support. "I saw students take a leap and apply for the program, and as a result have new education and career goals. Even remotely, I know that many of these students also feel more involved in the Indigenous student community, which I am always happy to see."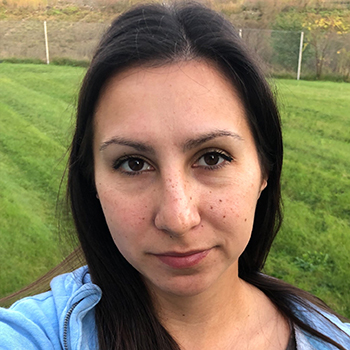 Stephanie Absalom, who recently completed her B.Sc. in Biology, spent her summer working in Associate Professor Mihai Costea's laboratory studying the plant species Cuscuta. She photographed plant specimens, dissected them under a microscope and input information to help Corey Burt, a MSc candidate supervised by Costea, build out a taxonomy of the species.
"Professor Costea also curates the herbarium at Laurier and I mounted a collection of Cuscuta plants so they can be preserved," says Absalom. "We collect and enter data for each specimen, such as the date it was collected and information about its habitat. It's like a snapshot in time so you can look back 100 years from now and see what was growing and where. I think it's good to know what species we have in Canada and if their habitats are being destroyed."
Absalom's experience in the USRA program built on her previous research studying Indigenous plant uses, for which she won the award for best presentation in her category at Ontario Biology Day in spring 2021.
"It's important to know how plants have been used in the past and conduct further research to find the active compounds within a plant and how to use them for everyone's benefit," says Absalom. "I don't want this knowledge to be forgotten, especially when a lot of it wasn't passed down to people like myself who didn't have that type of connection with my Indigenous grandparents. We need to preserve it for the future."
Now that she has graduated, Absalom is excited to pursue further laboratory experience, with the goal to one day become a full-time researcher.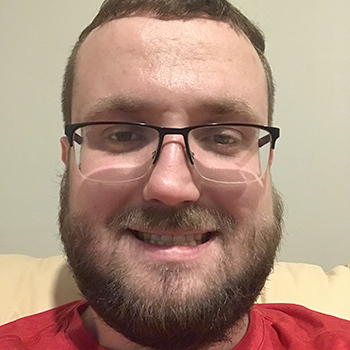 Ryan Gauthier, who completed his BSc in Physics and BA in Mathematics at the end of August, worked with Professor Cristina Stoica to study principal component analysis (PCA), a method of interpreting large data sets. He used PCA to analyze a collection of sound samples and separate individual instruments based on factors such as pitch and timbre.
"The main purpose of our research was to learn more about PCA and how to work with data sets," says Gauthier. "PCA plays a big role in machine learning and many people believe that data science is going to become the next paradigm in science. Even though what we did over the summer may not have the most practical applications, PCA can be applied to a lot of things that have very real and important practical implications, such as the effects of climate warming."
After a motivating summer that helped him refine the focus of his research, Gauthier is continuing his work with Stoica, who is supervising him in Laurier's Master of Science in Mathematics program.
"I learned a lot about how research happens and that there are multiple ways to attack a problem and not all of them are going to work," says Gauthier. "In fact, most of them are not going to work. It's about trying again and again until eventually you find something."
Lauren McConnell is a fourth-year student in Laurier's Business Administration program specializing in accounting. She had her first experience conducting research this past summer under the supervision of Associate Professor Chunming (Victor) Shi.
"We were studying how the COVID-19 pandemic has affected supply chains in remote communities in the Northwest Territories," says McConnell. "I helped input information about all different levels of the supply chain, from factories to suppliers to customers, along with prices and demand, into a simulation software. It shows us how the supply chain functioned before versus during the pandemic."
Using the software was a "learning curve" for McConnell, but she eventually learned to use it "inside and out." She enjoyed getting to focus on a topical issue as it plays out in real time.
"Our initial findings indicated that there were a lot of impacts due to travel restrictions and shortages and changes in supply and demand as a result of the pandemic," says McConnell. "Even pre-pandemic, it was very complicated to deliver supplies there, so I was interested to see what the impacts might be, especially because a lot of the communities we looked at were First Nations communities, which are obviously important to me."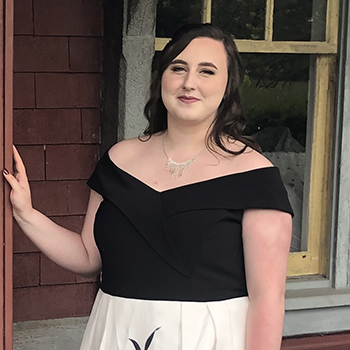 Ashley Falconer is a third-year student majoring in Global Studies. Over the summer, she collaborated with Geography and Environmental Studies faculty members Alex Latta and Miguel Sioui on an ongoing study about Indigenous approaches to environmental stewardship.
"I conducted a literature review on Indigenous-conserved and protected lands, analyzing what has gone on in the past to see what's working and what's not," says Falconer. "For example, in Australia they have what is called a guardian program, which allows Indigenous stewards to make their own procedures for taking care of their environments."
Falconer found a lot of merit in this approach.
"Though governments may say otherwise, it is their land, so Indigenous people should be taking control and having a voice," she says. "It helps to build connections between traditional knowledge and modern science." 
With her new knowledge of literature review methods, documentation and both theoretical and practical analysis, Falconer is feeling equipped and inspired to pursue her scholarly ambitions.
"I never really thought about research beforehand, but now I am definitely looking forward to doing more," says Falconer. "I highly recommend the USRA program because it's a great opportunity to take what you're passionate about and build on it to develop academic skills."
If you are an Indigenous undergraduate student at Laurier who is interested in pursuing a future USRA summer placement, please connect with your Indigenous student support coordinator by emailing indigenous@wlu.ca.