The COVID-19 pandemic sidelined varsity sports in 2020, but the Wilfrid Laurier University Golden Hawks and the University of Waterloo Warriors found a way to keep their rivalry alive.    
Coaches, athletes, support staff and fans of varsity teams from both universities rolled up their sleeves between October 2020 and March 2021 as part of the second annual Blood Battle in support of Canadian Blood Services. Both Laurier and the University of Waterloo are members of Canadian Blood Services' Partner for Life program. As members, each institution pledges a certain number of blood donations to the life-saving organization each year.     
The Laurier Golden Hawks contributed 266 units of blood during the 2020 battle, edging ahead of the Waterloo Warriors, who won the inaugural challenge in 2019.  
"The annual Blood Battle has been a great way to bring the university communities together to raise awareness for the ongoing need for blood," says KP Anand, associate director: business operations with Laurier Athletics and Recreation. "The Waterloo Warriors have been great competitors, and the real winners of the battle are those who receive life-saving blood donations."  
Originally scheduled to end in February, Blood Battle organizers extended the challenge through the end of March due to enthusiasm and support from the Laurier and University of Waterloo communities. Donors contributed an additional 70 blood donations in March.    
"The pandemic put a greater focus on the need for blood and our teams got behind that," says Jamie Howieson, communications coordinator with Laurier Athletics and Recreation. "The Blood Battle gave our teams and coaching staff something to strive for in the absence of inter-university sports. That's been beneficial in many ways."  
The Blood Battle inspired men's hockey forward Anthony Sorrentino (BA '21) to become a blood donor. Sorrentino donated twice during the battle and plans to make his third donation in mid-May. Through the donor process, Sorrentino discovered his blood type is O positive, which makes it compatible with four of the eight blood types.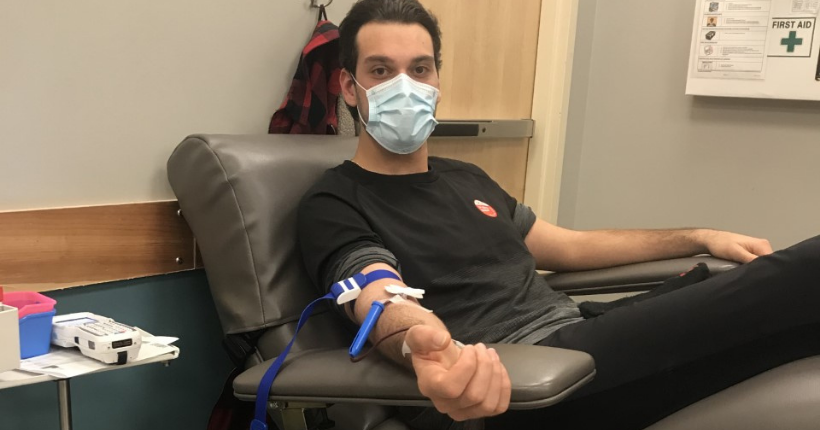 "Giving blood is a meaningful way to support the community and give back," says Sorrentino. "As a hockey player, I often think of the Humboldt Broncos tragedy and the units of blood that were needed as a result of the accident. By donating blood, you're able to help others in critical need."  
Sorrentino has also become a campus ambassador for Hockey Gives Blood, a non-profit organization that aims to engage and educate the hockey community about the importance of blood and stem cell donations. He hopes to encourage more Laurier students and his fellow student-athletes to donate blood when he returns to the Waterloo campus for graduate studies in fall 2021.  
Support for the Blood Battle contributed to Laurier's record-breaking donation of 477 units of blood in 2020. Many Golden Hawks, including men's football head coach Michael Faulds and women's hockey head coach Kelly Paton, shared their donor experiences on social media to encourage others to donate. Laurier Athletics game-day operations coordinator Ted Collins also brought awareness to the need for blood donations and made headlines with his 70th blood donation in December.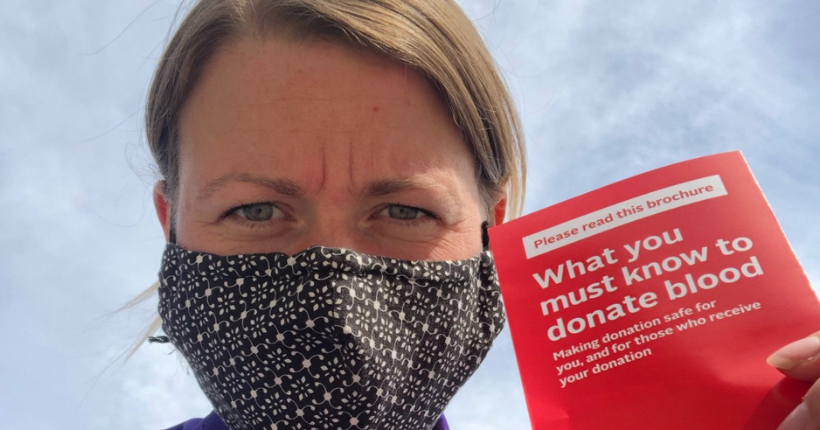 Laurier has pledged 350 units of blood in 2021. At the time of publishing, more than 150 donations have been made. Laurier faculty, staff, students, alumni and community members can book a blood donation appointment online. To have your donation support Laurier's pledge, complete the Partners for Life Member Registration form and include Laurier's partner ID (WILF001529) or tell clinic staff to count your donation toward Laurier's pledge.  
It is safe to donate blood during COVID-19. Visit the Canadian Blood Services website for details about donor health requirements, screening measures and cleaning practices. If you are unsure if you are eligible to donate, please visit the Canadian Blood Services eligibility page or call 1-888-2-DONATE to speak with a nurse.