Five Wilfrid Laurier University students researching issues related to homelessness will have their work featured on the CBC Kitchener-Waterloo radio program The Morning Edition with Craig Norris throughout the month of March.
One student researcher will be interviewed each Wednesday from March 3 through March 31. The five undergraduate students are all in their fourth year of the Criminology program at Laurier's Brantford campus.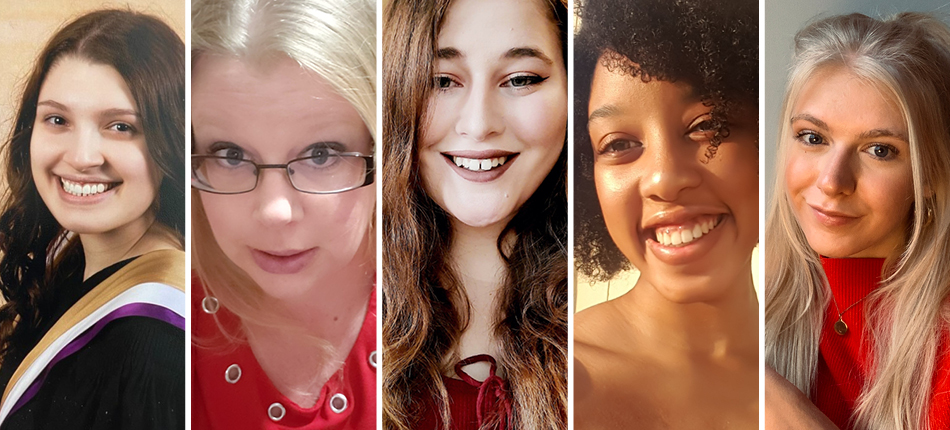 Braet, Kurzawski, MacDonald, Springer, Thielman
Erin Dej, assistant professor of Criminology, taught the students – Mika Braet, Clarissa Kurzawski, Skye MacDonald, Amira Springer and Jordan Thielman – in the new Homelessness and the Criminal Justice System in Canada course last fall. For their final assignment, Dej asked students to take their learnings from the course and consider how to improve the lives of people experiencing homelessness through structural, policy and practical means. Each student produced a blog post, action paper and infographic, with the ultimate aim of preventing and ending homelessness and its criminalization in Canada.
"The students were passionate, curious and open to new ideas about how we have created and respond to homelessness. Working with them was the most rewarding teaching experience I have had in my career," says Dej. "I have been waiting 10 years to teach a course like this, one that explores how the very nature of being homeless becomes criminalized and, at the same time, how people who have involvement with the criminal justice system are highly vulnerable to homelessness."
The students will be interviewed at 7:10 a.m. each Wednesday on The Morning Edition. Braet, Kurzawski, MacDonald, Springer and Thielman's blog posts will also be published every Thursday for the next five weeks on the Canadian Observatory on Homelessness' Research Matters blog. Dej's introductory post was published on Feb. 23.
"This is a great example of the real-world applications that can come from a university course," says Dej.
Jordan Thielman
Blog | CBC interview
Mika Braet
Blog | CBC interview
Amira Springer
Blog | CBC interview
Skye MacDonald
Blog | CBC interview
Clarissa Kurzawski
Blog | CBC interview