To describe Associate Professor Stacey Wilson-Forsberg's Immigration, Refugees, and Human Rights class as "remote" is only accurate insofar as students were coming together in a virtual classroom, with some physically located more than 4,000 kilometres away from each other.
Despite the distance, students say the bonds they formed, the emotions they experienced and the stories they shared brought them close together and created an experience that felt far from remote.
Students in Laurier's Human Rights and Human Diversity program and students from Mexico City's Tecnológico de Monterrey Geopolitics and Technological Change course shared in transformative learning experiences as part of the class, including guest lectures and talks by the United Nations High Commissioner for Refugees, representatives from Doctors Without Borders and asylum seekers in Mexico City.
Created by co-instructors Wilson-Forsberg and Diana Correa-Corrales, an associate lecturer at Tecnológico de Monterrey, the combined courses offer students a "global classroom."
"It's one thing to learn about our immigration system from a textbook and another to hear about it first hand from asylum seekers currently navigating the system," says Marilena Hertzing, a student in the Immigration, Refugees, and Human Rights class. "These course experiences will follow me the rest of my life. They changed the way I view the world."
The COVID-19 pandemic meant that Laurier's bi-annual Mexico Migration and Human Rights field course, which is led by Wilson-Forsberg, could not take place during the summer of 2021. With students unable to travel to Mexico, Wilson-Forsberg was inspired to bring the most meaningful components of the experiential course into the virtual classroom.
Wilson-Forsberg and Correa-Corrales combined their fall term classes focused on international migration. They taught a few classes together, but students primarily connected with one another through discussion boards and collaborative assignments on the shared website property, Global Classroom by Tecnológico de Monterrey. Students also used the site to participate in group discussions about course concepts and engage in social interactions during their free time.
"Of course, we wanted to be in a classroom in Mexico City watching the Canadian and Mexican students learn together," says Wilson-Forsberg. "But we could also get creative with technology since all geographical barriers were transcended."
For Wilson-Forsberg, getting creative meant encouraging the use of the global classroom site and including nearly a dozen international guest speakers during the 12-week course, which examines international migration policies, as well as challenges and inequalities at home and abroad.
During a portion of the course focused on how state and media actors work to frame the migrant crisis, Tecnológico de Monterrey and Laurier students had the opportunity to hear about human migration first hand. Refugee claimants at a Mexico City shelter called Albergue Tochán spoke to students about their ongoing migration experience.
"It was a really emotional experience," says Wilson-Forsberg. "For most students, this was their first contact with refugees in Mexico. Observing students asking questions, building empathy and forging connections was quite amazing."
Reed Pollard, a Human Rights and Human Diversity student minoring in Law and Society and Indigenous Studies, says connecting with refugee claimants at the shelter was powerful, as was a presentation by the United Nations High Commissioner for Refugees.
"I was passionate about the subject of immigrants and refugees before and this course heightened my passion," says Pollard. "Something like this stands out and the feeling will stick with you to create lasting memories."
Herzing says she is interested in attending law school with a focus on international immigration after graduation.
"The opportunity to make connections with classmates in Mexico and hear about the immigration system from the inside took me out of my bubble and into an entirely different headspace," says Herzing. "This class brought a different light to what we were learning to remind us that, while classroom learning might feel theoretical, this is real."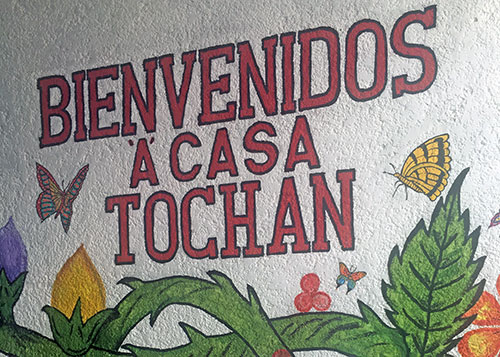 The View from Mexico City
Wilson-Forsberg and Correa-Corrales met through shared research interests several years ago in Mexico City and have worked together to coordinate the bi-annual Mexico Migration and Human Rights field course in Mexico City.
Traditionally, students would have the chance to meet in person and tour shelters and government agencies during the field course. This year, Correa-Corrales says students in Mexico gained a deeper understanding about the Canadian student experience by engaging virtually.
"The global classroom provided opportunity for learning experiences and exchanges students might not have had before," says Correa-Corrales. "We're not saying 'think about a different country' – they are going into it virtually."
Correa-Corrales credits intercultural learning experiences such as the Geopolitics and Technological Change or Immigration, Refugees, and Human Rights class for building critical competencies including empathy in students and encouraging them to think about others. Unlike the Laurier student group, students in Correa-Corrales' class are studying in fields outside of human rights and human diversity, so the course might offer the only time they consider how these issues relate to their fields of study.
Gustavo Salas Ortega, one of Correa-Corrales' students, found the course experience eye opening.
"This was definitely one of the highlights from my semester and quite possibly from my entire college experience," says Ortega, an Tecnológico de Monterrey student studying electrical engineering. "I had an assumption about how life was in Canada and the sharp differences from living in Mexico, yet those expectations didn't match my experience. As quickly as it took to introduce ourselves, we realized we had so much in common."
It's that realization – that there is common ground shared around the world – which Correa-Corrales and Wilson-Forsberg stress as an important learning component of the class.
"Even for students in my class, issues of refugees and immigration seem far away," says Correa-Corrales. "The global classroom brings us all closer together."
Pollard says Laurier students considering a course with an intercultural or experiential component should seize the moment and "step out of their comfort zones".
"You have a limited number of semesters at university, so take any chance you get to learn from people with different experiences from your own," says Pollard. "Seeing the differences – and the similarities – between us is enlightening."