The Laurier Centre for Military Strategic and Disarmament Studies (LCMSDS), which has become one of Canada's largest military history research centres since its founding in the early 1990s, is now expanding to become the Laurier Centre for the Study of Canada (LCSC). The reimagined research centre will facilitate and support original research on the expansive, evolving and contested interpretations of Canada.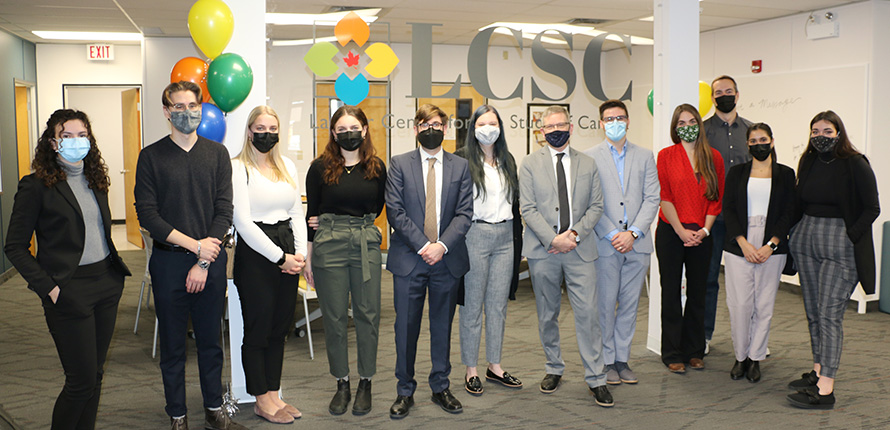 Kevin Spooner (centre) poses with LCSC students and staff members.
LCSC consists of three new research collectives which will examine the themes of Policy Connections for Canada, Canada in our Communities, and Publics and Social Justice, while legacy LCMSDS programming will continue under the War and Society collective. Each collective is made up of Laurier faculty and graduate students from more than a dozen departments in the Faculty of Arts and Faculty of Liberal Arts, as well as external research fellows from academic and community partners.
In expanding the centre's mandate, the LCSC executive committee was determined to build upon LCMSDS's community engaged outreach programs and communication efforts, including the Canadian Military History academic journal, the annual Canadian Military History Colloquium, public lecture series, the On War & Society podcast, battlefield study tours and the Laurier Military History Archive.
Delivery of these programs will continue to provide high-quality experiential learning and training opportunities for Laurier undergraduate and graduate students. Research in all four collectives is supported through the new Copps Scholar program that has already funded more than 2,500 hours of research assistance from a team of 17 senior undergraduate students.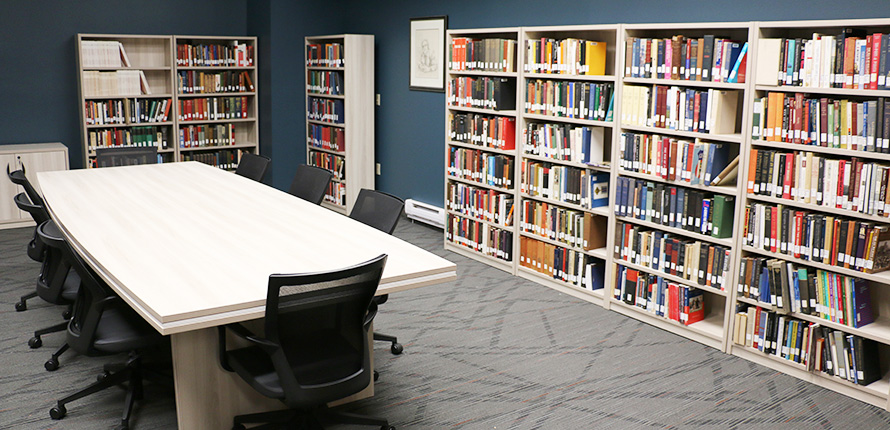 LCSC's offices at 232 King Street in Waterloo have undergone an extensive renovation thanks to generous funding from Laurier's Faculty of Arts. In addition to the Robert Vogel Library, which features an extensive collection of military history-related literature open to Laurier students, the office space now includes meeting rooms, study areas, and a hybrid in-person/virtual event space that will allow the centre to combine its popular in-person and webinar series.
"We look forward to welcoming everyone to the newly renovated Laurier Centre for the Study of Canada," says Kevin Spooner, the centre's director. "It will be the perfect space to generate ideas and inspire the research so keenly needed for Canada to meet the opportunities and very real challenges confronting this nation in the decades to come."
Ongoing research at LCSC includes:
Spooner and Sara Matthews, associate professor of Global Studies, are working with the Region of Waterloo Museum and Region of Waterloo Archives on a project related to a Cold War bunker located in the Freeport neighbourhood of Kitchener. They are being assisted by Victoria Wang, a senior undergraduate researcher, who collected and analyzed documents related to Cold War bunkers and civil defence.
With financial support from the U.S. State Department, the Policy Connections for Canada collective will host a Canadian Studies event in winter 2022 that expects to bring university students from New York state to Laurier's Waterloo campus for a discussion about cross-border issues. The collective is also working with the Centro de Investigaciones sobre América del Norte (Center for Research on North America) at the National Autonomous University of Mexico to produce a series of online seminars related to the study of Canada.
The recent Maple Leaf Route webinar series, a partnership with the Canadian Battlefields Foundation and Juno Beach Centre Association, drew thousands of viewers for its debut in spring 2021.
An upcoming podcast series, Understanding Canada, will feature the research of LCSC research fellows and associates, highlighting contemporary and historical issues confronting Canadian society.
LCMSDS was founded by Professor Emeritus Terry Copp and Professor of Mathematics Marc Kilgour. To learn more about LCSC, visit studyofcanada.ca.