When Craig Voakes (BA '10), former Golden Hawks Athletics hockey player and left-wing in the Ontario Hockey League, co-founded sports nutrition subscription service Squad Box, he sought to build not just a business but an experience that would bring out the best in every team. This summer, he returned to Wilfrid Laurier University's Lazaridis School of Business and Economics to introduce an experiential workplace partnership that brought out the best in Master of Business Administration (MBA) students.
Voakes worked with Lecturer and Business to Business (B2B) Marketing instructor Lisa Giguere to give students a chance to put theory to practice while developing marketing plans for the budding subscription box business.
"Everything is brand new for me and there has been a learning curve," says Voakes, who co-founded Squad Box in 2020 with his brother Mark Voakes (BA '08). "It was very evident that these students put forth a good effort to understand the uniqueness of Squad Box and applied their knowledge to go above and beyond."
Squad Box offers nutritious products for athletes and teams that promote pre-game performance and post-game recovery. Voakes worked with Giguere and Scott Keller, a workplace partnerships coordinator at Laurier, to develop a project that leveraged the professional experience of the Lazaridis MBA students, reinforced course concepts and developed core competencies, and solved a real marketing challenge faced by the entrepreneur.
"The Squad Box project allowed me to apply course content in a practical way," says Alexia Fantin (BA '20), a Lazaridis MBA candidate and student in the B2B Marketing course. "As someone who wants to pursue marketing as a career, I would say that this immersive learning experience really provided me with the professional skills to be successful in the marketing workforce."
The class of 12 broke into two groups based on target markets of minor sports organizations and university/college varsity sports teams.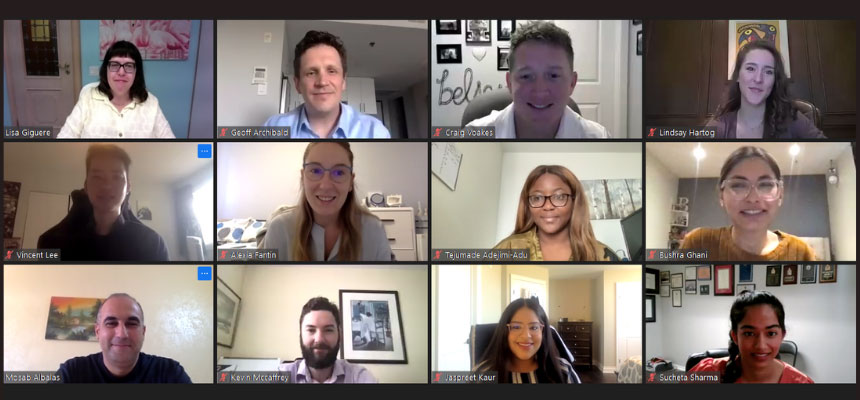 Each student group conducted a market, environmental and competitive analysis, and looked at market segmentation and buying behaviour. Both teams made recommendations related to the target market, positioning, and four "P"s of marketing: product, place, price and promotion, and prepared financial projections.
"Our end goal is a happy client who feels that their time has been well spent because we equipped them with valuable information and insight," says Lindsay Hartog, a Lazaridis MBA student who worked on the university/college varsity sports team marketing plan.
The business insights presented to Voakes by the two groups during virtual presentations earlier in August were developed during months of market research. Each group's marketing plan contained different recommendations, but in the end Voakes received relevant marketing strategies that he could immediately apply to the business.
"Partnering with the B2B Marketing course provided me with a vast amount of new data and information, including insight towards the needs of the sports communities Squad Box is looking to serve," says Voakes. "I look forward to implementing some of their recommendations."
Giguere has worked with Laurier's Community and Workplace Partnerships team for a number of other courses in the past, including an undergraduate BBA Brand Management class where student groups were matched with brand managers at SC Johnson and Conagra Foods to conduct brand audits. Since some of these students aspire to gain employment in brand management roles following graduation, these 'hands on' partnerships are valuable.
According to Giguere, one of the benefits of partnering with local, up-and-coming businesses like Squad Box for experiential learning opportunities is the usability of the students' research.
"Students get to provide evidence to match the partner's excitement and help them see the potential of their business," says Giguere. "Many students have never been exposed to entrepreneurs, so this gives them an entirely different professional perspective."
Hartog says that one of her team's biggest challenges was navigating and researching a largely undeveloped market, one "embedded with uncertainty" because of the changes to public health regulations surrounding team sports during the COVID-19 pandemic.
While reflecting on her group's achievements, Hartog embraces the team spirit Voakes and his brother aim to cultivate through Squad Box.
"Our team's ability to maintain momentum and embrace challenges has been our biggest strength," says Hartog. "Our success will be based on the degree to which we are able to support Craig's entrepreneurial journey."