A partnership between Wilfrid Laurier University and China's Yuncheng University is creating intercultural learning opportunities for students at both institutions and expanding Laurier's international reach.
A class of 40 third-year Yuncheng University students, all English majors, took part in a recent 12-week online Business English course led by Laurier LEAF program staff and instructors. For three hours each week, students took part in engaging, discussion-based activities designed to improve their English skills. As part of the course, Laurier student leaders also engaged with Yuncheng University students, leading to intercultural connections and new friendships.
"At Yuncheng University, students study English but don't have the opportunity to have a dialogue or interaction with native English speakers. This course allows them to do that," says Ben Yang, director of global engagement with Laurier International. "It's almost a co-teaching environment. One group of teachers is at Laurier and the other is on site in China."
The Business English course delivered to students at Yuncheng University is normally offered as part of the in-person Laurier English and Academic Foundation (LEAF) program, a four-week Brantford campus experience for international students that allows them to meet English-language proficiency requirements to study at Laurier and offers an introduction to Laurier's academic culture and life in Canada. With an inability to offer the in-person LEAF program due to the COVID-19 pandemic, LEAF organizers shifted gears to develop the online Business English course for Yuncheng University students.
The Business English course was taught by LEAF instructors via Microsoft Teams and included guest lectures by staff from the university's Career Centre, Laurier International and Launch Pad. Four Yuncheng University instructors were on site in China to support student learning as part of the course, which was delivered in a "language lab" setting. Course curriculum was designed to encourage students' communication and confidence in English through the practice of speaking, presentations, discussion and making a business case.
"This program was like an opportunity to travel to Canada and taught me a sea of knowledge that cannot be learned from books," said Sophia, a Yuncheng University student who participated in the course. "I learned some things I had never thought of before, such as the way to communicate with a Canadian partner and new teaching methods. The most important thing is that it helped me to have the courage and confidence to communicate."
Bridging Cultures
Student volunteers from Laurier's International Education Studies program helped deliver the Business English course, with 10 students from the program matched with students from Yuncheng University to assist with English comprehension and communication skills. Associate Professor Steve Sider arranged for Laurier students to participate in the course, while international student advisor Jane Desmond worked to arrange social events for Yuncheng University and Laurier students, including games and interactive activities that helped build connections in an online environment.
"They were able to have video chats and it was a great experience for the students in China and in Canada," says Valerie Kilgour, manager of Laurier's LEAF program, noting that most students connected via Zoom, Teams or Skype. "We arranged the pairings and then let the students themselves determine how they would communicate with each other."
Grace Arnold, a second year International Education Studies student at Laurier, participated in the course as a volunteer. Arnold describes her experience as "very positive" and says it was satisfying to assist students and watch their English improve. She says the 12-hour time difference between China and Canada was the most difficult barrier to overcome.
"I continue to be inspired by the students I work with," says Arnold. "As an International Education Student, I spend a lot of time learning about and analyzing my relationships with students across the world in contexts much different than my own. I find that I learn from these experiences just as much as the other students and often build strong connections with them."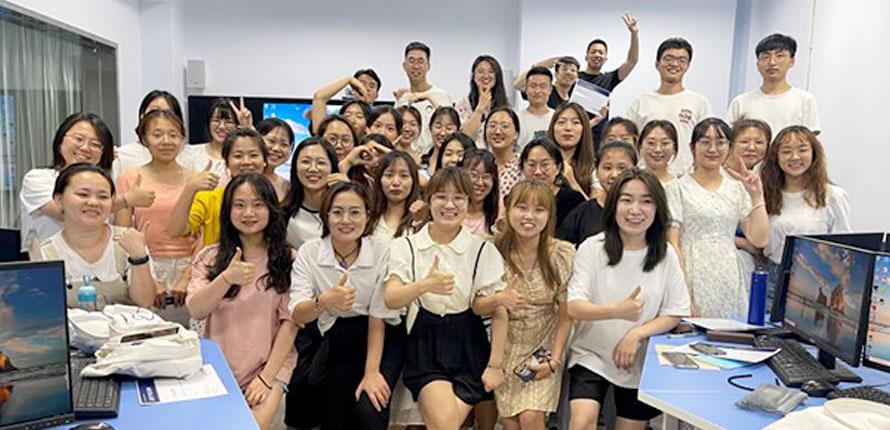 A Successful Partnership
The capstone project in the Business English course was a Dragons' Den-style product pitch, with students working in groups to conceive a new product and make a pitch to a team of "investors" who were Business English course instructors. The exercise served to build students' confidence in English presentation, speaking and group-work skills.
"While not an exact replica of a Canadian classroom, the course experience was probably very different than the kinds of learning, activities and assignments students had experienced before," says Kilgour. "We had a lot of positive feedback about the interactions with Laurier students and staff, and about the assignments and questions."
The partnership between Laurier and Yuncheng University was formed following visits to Laurier by leaders from Chinese universities. Yang made a connection with a representative from Yuncheng University, leading the two institutions to pursue establishing the course. Yang says that innovation in the context of COVID-19, engaging students in China through the opportunity to interact with English speakers in Canada and a unique partnership all contributed to the course's success.
"International education by design is experiential and the Business English course was originally in person as part of the LEAF program, so that was a barrier and a challenge," says Yang. "But it also opened an opportunity for more online learning, which has become accepted around the world."
Yang notes that officials at Laurier and Yuncheng University were supportive of the course, with Yuncheng University President Dr. Xue Yaowen and Jennifer Casey, Laurier's assistant vice president, enrolment services and registrar, attending a closing ceremony held as part of the class.
The success of the Business English course led to another partnership between Laurier and Yuncheng University. During July and August, Laurier ran a professional development program for 22 Yuncheng University English department faculty members. The program, also facilitated by Laurier LEAF program staff, focused on student-centred pedagogy, as well as sharing ideas and best practices for teaching English as a second language.
"These efforts serve to build Laurier's brand and reputation internationally," says Yang. "And they also create an opportunity for staff and students to play a significant role in internationalization initiatives."