WATERLOO – In a new report released on April 2, World Autism Awareness Day, researchers at Wilfrid Laurier University reveal that 53 per cent of caregivers of children or youth with an autism diagnosis felt that the funding they received from the Ontario Autism Program (OAP) last year met their child's therapy and support needs "to a low extent or not at all," while nearly half (47 per cent) did not receive a single hour of OAP-funded therapy. 
Caregivers reported investing major personal economic resources to fill the gaps in funded services, sometimes experiencing economic strain or hardship as a result. For those who could not afford to do so, their children went without necessary support. 
"Autistic children with high support needs were unable to access the therapy they needed, as the set funding allotments over this period were simply not enough for them," said Janet McLaughlin, associate professor in Laurier's Department of Community Health and co-director of the Laurier Autism Research Consortium (LARC). "Parents also described what seemed like 'never-ending wait lists' for needs-based services."  
Caregiver stressors that existed pre-pandemic, such as difficulties navigating and affording therapies, were significantly compounded by additional challenges that emerged over the study period, including isolation and further service loss due to COVID-19. Caregivers reported spending an average of 15 hours per week advocating and navigating care for their children, contributing to anxiety-related mental health concerns and a lack of capacity for physical self-care. Sixty-nine per cent of caregivers indicated that their mental health worsened in the wake of COVID-19, with some expanding further to say that working from home while simultaneously caring for their children was a primary contributing factor.  
"Between the pandemic and autism services upheaval, many caregivers are burned out," said McLaughlin. "They are working multiple full-time jobs, not only as parents and income earners, but also as navigators and advocates for their children. Systems need to be better funded and implemented to take the burden off caregivers and to provide timely, wrap-around supports for autistic children and their families."  
The Ontario Autism Caregiver Survey was conducted as a partnership between LARC and Autism Ontario in July 2021. A total of 2,685 caregivers completed the survey, reporting on 2,933 children, which represents approximately 10 per cent of Ontario children 17 and under who are on the autism spectrum. Besides service access and caregiver well-being, the survey also covered topics such as education and recreation.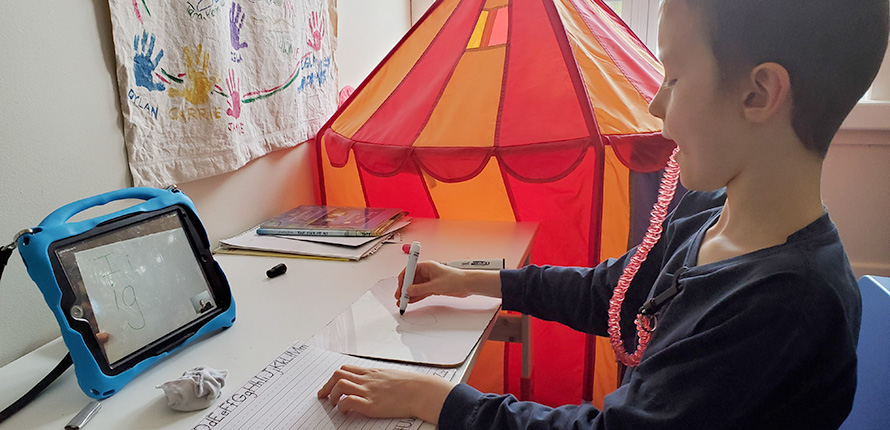 McLaughlin's son, Sebastian, engaging in remote learning. The caregiver study was inspired by McLaughlin's personal experiences supporting a child on the autism spectrum throughout the pandemic.

McLaughlin and her co-authors, including Margaret Schneider, associate professor in Laurier's Department of Kinesiology and Physical Education, and postdoctoral fellow Stephen Gentles, also reported that many Ontario primary and high school students with an autism diagnosis have struggled to remain consistently engaged in the education system during the COVID-19 pandemic.  
The survey found that 20 per cent of autistic children or youth did not participate in any form of schooling at some point during the 2020-21 school year. Nearly 60 per cent of those who were able to attend in-person schooling missed at least five weeks of instruction, with 26 per cent missing 21 weeks or more.  
"When comparing our current findings to our previous report in 2019, we see that many pressing issues, such as insufficient funding for educational supports, have remained for families and have intensified as a result of COVID-19," said Schneider, co-director of LARC.  
In addition to COVID-19-related closures, autistic children and youth also experienced school exclusions, with 23 per cent of students sent home at some point during the school year due to the school's inability to provide appropriate supports to manage behaviour or safety issues. Of the students who participated in remote learning, 58 per cent of caregivers reported that their child was poorly or not engaged. Those provided with consistent in-person education were more likely to report a positive experience. 
"Caregivers in this study overwhelmingly believe that in-person schooling is essential for all children with autism spectrum disorder, from both a learning and respite perspective," said Schneider.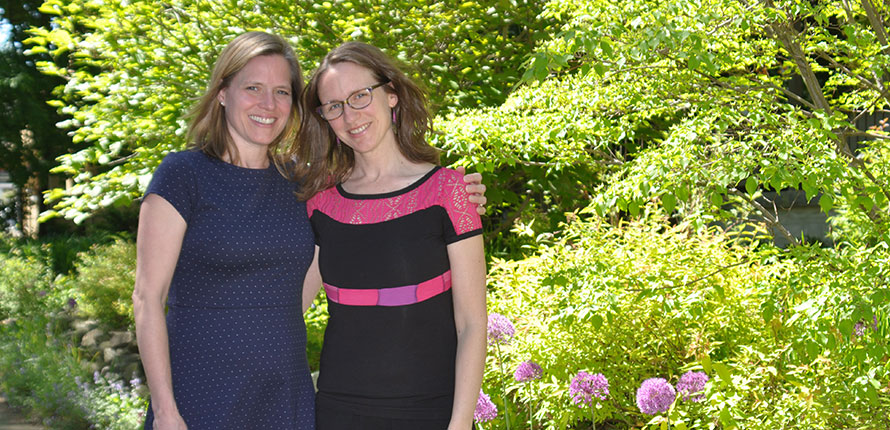 Schneider and McLaughlin 
Many caregivers reported negative impacts of province-wide lockdowns on their child in the areas of mental health (50 per cent of children), physical health (40 per cent of children), social functioning (67 per cent of children), and overall development (54 per cent of children), which may have long-term ramifications for well-being and quality of life.  
"Parents also shared things that are going well, such as their appreciation for the efforts of their child's teachers to hear their concerns," said Gentles. 
In an addendum to the report, the researchers provide recommendations for the Ontario government to improve service access and quality of life for families. Key recommendations include funding therapies based on a child's clinically assessed individual level of need, as opposed to set allotments based on age; enhancing collaborations between provincial ministries to ensure that autistic individuals receive a full suite of complementary services; and fully funded in-school supports necessary for autistic children to have a safe, meaningful and uninterrupted education.  
"The constant upheaval of the Ontario Autism Program has caused families a great deal of stress," said McLaughlin. "The government should prioritize fully funding this program and ensuring that all autistic individuals have access to needs-based supports in order to fulfill their unique potential." 
Read the full report: "Families in Flux: Findings from the 2021 Ontario Autism Caregiver Survey on education, service access and well-being in the context of COVID-19"