Brantford – A team from Wilfrid Laurier University has won the inaugural Laurier Design for Change User Experience (UX) competition held on March 27. 
Business Administration students Rachel Curwen, Thabeetha Regi and Justine Trieu took home $5,000 for their idea to create a classroom app to educate, encourage and empower today's children to take action on issues of climate change.
"We challenged these students to use UX principles to find creative and impactful solutions for a greener future," said Abby Goodrum, professor and program coordinator of Laurier's User Experience Design program. "The results were phenomenal. I am so proud of all the students who took up this challenge to make the world a better place, one experience at a time."
Over 120 participants from nearly 50 universities and colleges across Canada were challenged to develop and design solutions to transform social behaviour toward greener and more sustainable practices. 
Throughout March, the participants attended workshops on climate change, user experience design and pitching from industry professionals to prepare for the final event. Ten finalists were chosen to present at the finale on March 27, where they pitched their idea to a live virtual audience. Independent judges from Scotiabank, Laurier, IBM and RBC determined the winner based on the design process, usefulness, innovation and impact. 
"Thank you to everyone for putting the best of yourself forward every day, for being innovative and focused in finding user-centred solutions for the needs of real people," said Selene Castilla, regional design director at Scotiabank and Design for Change judge.
"I am extremely impressed by the creativity and quality of the submissions," said Laurier President and Vice-Chancellor Deborah MacLatchy. "Congratulations to the winners on the significant recognition in a national competition; to stand out in such a remarkable group is truly an accomplishment. I hope that you now move forward on implementing your ideas to make our world a better place."
Design for Change was presented by Laurier's User Experience Design program. The event and prizes were made possible through a donation from Scotiabank.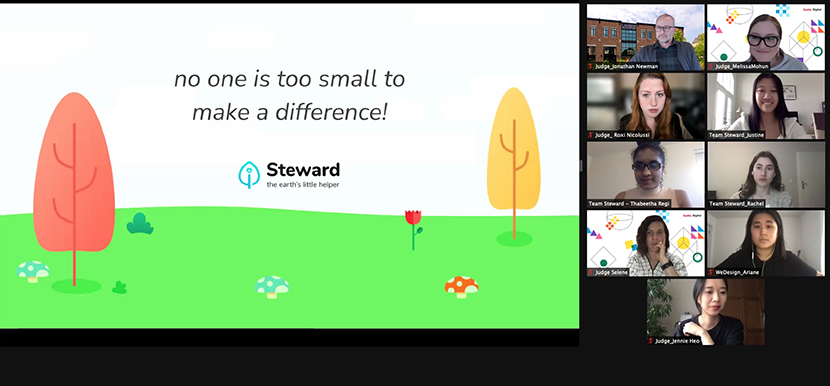 Team Steward, including Laurier students Rachel Curwen, Thabeetha Regi and Justine Trieu, present their winning idea to a panel of judges at the inaugural Laurier Design For Change UX challenge.
About the winners
First Place – Team Steward from Wilfrid Laurier University 
Curwen, Regi and Triew of Laurier wanted to tackle the challenge that youth feel anxious about the future of climate change, and teachers feel unequipped to provide relevant and impactful information to their students. 
Their solution was to develop an app, "Steward – the Earth's little helper," as a way to empower young changemakers with resources, habit tracking and community. The app would provide a way for students to earn points and learn about their sustainable impacts, find kid-friendly resources for students and teachers, and connect students with classrooms worldwide. 
This team took home a $5,000 prize.
Second Place – Team Charlie's Angels from Humber College
Gagan Dhaliwal, Stuti Duggal and Leah Raftis from Humber College looked to create a simple solution to the unsustainable practices of fast fashion. Their research found that an average fast fashion item is only worn seven times before it is thrown out. 
Their solution was to create "Kindly – your sustainable shopping assistant." This browser extension would measure an item's actual cost in consumer's online shopping carts and help direct them to more sustainable options. The browser extension would allow consumers to see the cost per wear of an item, set their preferences for used or new items, input a budget and find more sustainable options to allow them to make more meaningful clothing choices. 
This team took home a $2,500 prize.
Third Place – Team Sustainable Investing from Western University
Emily Ma of Western University wanted to solve climate change, starting with the largest greenhouse gas emitters – large corporations. Through her research, she found that 93 per cent of individual investors wanted to know more about a company's sustainability practices before investing. 
As a solution, she created Berry, a browser extension that identifies stock tickers on any web page and provides users with sustainability scores and reports to make an informed choice when investing in the stock market. 
Ma took home a $1,000 prize.