Defining a Legacy Pollution Footprint: Assessing Spatiotemporal Patterns of Arsenic and Other Metals in Subarctic Lakes Using Paleolimnology
Researcher: Izabella Jasiak, MSc (2018-present)
Supervisors: Roland Hall (University of Waterloo) and Brent Wolfe (Laurier)
Concerns about arsenic in the Yellowknife area have persisted because of toxic dust released into the atmosphere during the gold extraction process at nearby Giant Mine. While many have studied 'contemporary' effects of ore roasting on lakes close to Yellowknife in the form of lake water and surficial sediment surveys, uncertainties exist about the spatial extent of Giant Mine's emissions.
We are addressing this knowledge gap using sediment cores collected from lakes along an 80-km transect at 10-km intervals downwind of Giant Mine to reconstruct past arsenic deposition and to identify how changes in climate may influence release of arsenic into aquatic ecosystems.
This knowledge will give natural resource managers and governments an understanding of the area of land and water that is storing legacy pollution that may continue to affect ecosystems.
Learn More
Using Paleolimnology to Establish Sediment Quality Baselines for a Community-Led Aquatic Monitoring Program, Tłįchǫ Lands, NWT
Researcher: James Telford, MSc (2015-18)
Supervisors: Brent Wolfe (Laurier) and Roland Hall (University of Waterloo)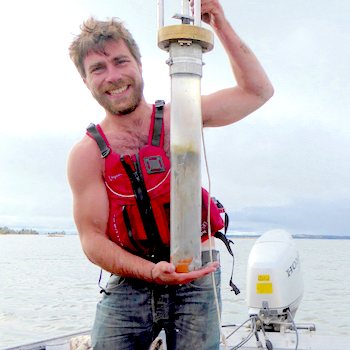 To address community concerns about climate change and the potential impacts of future mining development, the Tłıįchǫ Government started the Marian Watershed Stewardship Program (MWSP) to monitor water, sediment and fish at many locations throughout the watershed. Sampling locations are chosen through consultation with Tłıįchǫ elders and scientists focusing on areas that are culturally and scientifically important. In collaboration with the MWSP, we have used sediment cores taken from multiple lakes to understand how sediment metal concentrations have changed naturally over hundreds of years at these locations. The MWSP can continue to assess for potential future mining pollution at these locations by comparing this baseline sediment metals dataset to surface sediment samples. Results from sampling are presented at yearly Tłıįchǫ community workshops.
Learn More