Signpost Creation to Envision a More Just, Safe Climate Future
A rapidly changing climate has prompted an urgent call for engagement from citizens across all facets of society:
These illustrations of the mounting severity of climate change have created the need for new language, symbols and cultural 'signposts' to indicate the significance of the crisis and possible directions forward. 'Climate emergency,' declared by Oxford Dictionaries as the 2019 word of the year, is one such signpost that has seen a recent surge in use. This phrase calls attention to the grim reality we are now all collectively living in.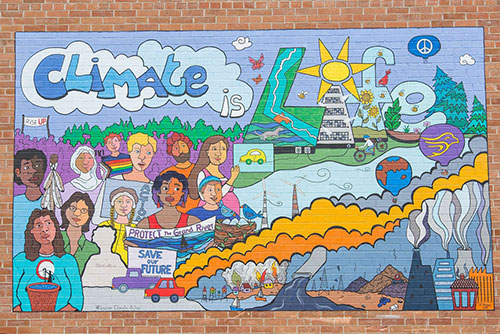 This 15-foot by 9-foot "Climate is Life" mural is painted on an exterior brick wall at Laurier, near the heart of Waterloo campus. It was painted by local muralist Pamela Rojas with the support of several hundred volunteers in fall 2019 as part of Global Climate Strike Week.
Signposts are important because they help unite society against a shared challenge, and emphasize the need for urgent, specific collective actions implemented at the speed and scale of the crisis. Signposts can be understood as directional symbols that encourage individual and collective action, pointing to possible futures. These include visions of alternative futures of what 'should happen' in response to crises, envisioning inspiring futures worth fighting for.
A salient example of this is the global COVID-19 pandemic. The urgent nature of the pandemic has led to governments and public health officials making use of targeted signposts to motivate a unified society-wide response to this crisis. The now-ubiquitous messaging to 'bend the curve' through mask-wearing and social distancing is meant to unite society to achieve the shared vision of a pandemic-free future. We urgently need an analogous response to the climate emergency, with similarly targeted signposts encouraging society-wide actions.
The climate emergency will require large-scale systems change towards a far more just and sustainable economy, with widespread public, private, community, individual and political support – all within the shortened timescale that climate science tells us is necessary to avert the worst consequences of the climate crisis. Yet without a clear vision and leadership to guide this transformation, many may simply avoid or postpone large-scale systems change. So how will such change be achieved?
My research investigates the critical function of targeted, visionary signposts in disrupting 'business-as-usual' narratives in times of crisis, to help achieve large-scale systems change. Any major systems change impacting tens of millions of people will require clear, public signposts to inspire and direct people into unified, large-scale collective responses.
My research leverages systems theory, which says that the highest leverage points to target for systems change include changing the mindset or paradigm out of which the system arises and changing the goals of the system. By representing (and targeting) key system goals and mindsets, signposts have the potential to be powerful leverage points of change. My research also builds on harnessing radical imagination theory – the capacity to envision and work towards better futures based on a study of the root causes of social problems.
By 'convoking' radical imagination, communities can engage in participatory signpost creation, and then work towards these far brighter alternative futures. Symbolism is a critical part of building cultures of sustainability (COS), therefore signposts as directional symbols can play an important role in transforming culture into a COS. To assess the efficacy of signposts, I am taking a participatory and arts-based mixed method research approach divided into several phases – an adaptation of the CreativeVoice method.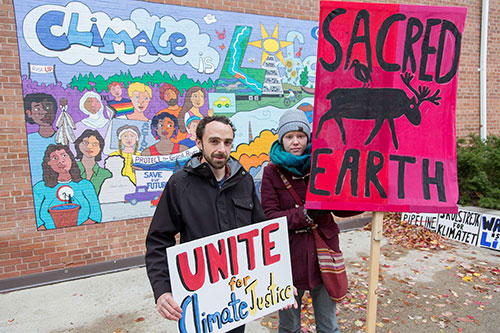 This portrait was taken at the official opening of the Climate is Life mural in fall 2019, which was also the launch of the research and action group Climate Justice Laurier. Featured in the photo is Kai Reimer-Watts and Karly Rath. Photo by Tomasz Adamski.
At Laurier, I participated in catalyzing and co-creating the Climate is Life mural, situated on Laurier's Waterloo campus. This signpost, now seen by thousands, actively pushes the university and the broader Laurier community to prioritize climate justice action. We can see other examples of signposts responding to our climate emergency today in bold proposals such as the American Green New Deal. Similar to America's original New Deal which catalyzed the creation of signposts to inspire Americans through the 1930s Federal Arts Project the Green New Deal is also engaging artists to design signposts that will once again move America into society-wide action.
Beyond the U.S.A., signposts can also be found in imagery crafted by social movements around the world that are rising to confront the climate crisis, and other systemic crises. By linking symbolism to social vision and action, signposts share powerful visual stories connecting to and unifying social identity. Their power has been used effectively many times over history, identifying the 'zeitgeist,' while shaping sociocultural responses to crisis.
As the climate crisis escalates around the world, it is critical that understandings of justice and compassion inform our collective response. The signposts that are chosen to guide society forwards must also centre justice. This means honouring those people and voices who are on the front lines of impacts from and just responses to the climate crisis, including many BIPOC communities and voices. Recognizing historic responsibility for this crisis lies most within Western nations and the Global North, there is also a question of global justice including providing resources and support to Global South nations and communities most impacted – along with those most impacted within our communities.
With the climate crisis, we must realize that we are all differently vulnerable, differently impacted, and at the same time interconnected – and that these vulnerabilities are often intersectional across diverse lived experiences of race, class, gender, geographic and social location (among others). Any solutions forward must embody a commitment to climate justice, recognizing both our differences and interconnections as one human community striving towards a safe climate future for all of us.
As the climate crisis escalates, the need for targeted, specific signposts to engage people in action is increasing dramatically. In response, local voices have an opportunity to engage in radical imagination together, leveraging collaborative signpost creation to envision climate justice-based futures. The emergence of climate 'artivism' and widespread climate signpost creation allows diverse communities beyond scientists and governments to actively co-create potential visions of alternative futures, and in doing so, begin to address the climate crises we face and make these new visions a reality. This process remains a critical part of collaboratively building a far brighter, more just and sustainable future.
About Kai
Kai Reimer-Watts is a current PhD student in Community Psychology program at Laurier. Previously Kai received a Master of Climate Change (MCC) from the University of Waterloo. He is the director of the feature documentary for climate action and justice Beyond Crisis, "a story of hope for a rapidly changing world," and a featured artist in the show Reconnection, launching at the Robert Langen Art Gallery at Laurier in fall 2020.
Kai's research and creative work explores the rich intersections of climate storytelling, the visual arts, movement-building and grassroots activism, centering on the powerful role of 'signposts' in both unifying and mobilizing a collective response to the climate crisis. At a local level, Kai led the "Climate is Life" mural project on Laurier's Waterloo campus, engaging several hundred people from across Laurier in its creation in fall 2019.
Kai is an active member of Climate Strike Waterloo Region which has been leading regular strikes, art builds and creative actions for climate justice throughout the region for more than a year; a leader on climate emergency campaigns locally in 2019, resulting in successful declarations of climate emergency across five municipalities and the region; co-organizer of the climate justice campaign 50x30WR, advocating for a 50% reduction in GHG emissions by 2030 in Waterloo Region; and co-founder of The People's Climate Foundation and Climate Justice Laurier, advocating for bolder action for climate justice at Laurier and beyond. Taken together, Kai's work explores the power of collective imagination in response to crisis to forge a far brighter future.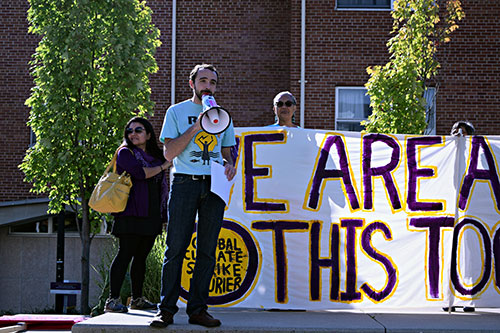 Kai speaking to a crowd prior to the march from Laurier for the Global Climate Strike Week day of action in Waterloo Region, fall 2019. More than 5,000 people come together for a large-scale action in Waterloo Public Square – the largest environmental protest in Waterloo Region's history. Photo by Astrid Cob Cetina.
Additional Reading
Kai Reimer-Watts
Laurier Climate Action
How You Can Take Action Today
Waterloo Region Climate Action
Climate Emergency Declarations
Art Responses to Climate Emergency
Green New Deal Resources
Art, Science and Sustainability
Visual Communications
Systems Change
Climate Justice