Stateless Babies: Birth Registration as Bordering Practice
With unprecedented numbers of people migrating globally, many governments are ramping up migration control and enforcement. This happens at physical borders, but also well within those borders as migrants and refugees encounter healthcare and local government systems. When women cross borders, their reproductive capacity can cause concern among authorities pursuing the securitization of migration. Should unauthorized or temporary migrants give birth within the territory, their babies may acquire citizenship and claim rights.
One worrisome policy response has been to tighten administrative requirements for obtaining a birth certificate. This creates obstacles for registering babies born to refugees or migrant women with temporary or irregular status, many of whom are racialized. For example, Israel stopped issuing birth certificates for babies born to foreigners; in Bangladesh 60 children are born to encamped Rohingya refugees without any legal citizenship each day; in Europe Roma children and children of undocumented migrants and refugees are at risk of statelessness, as are children born to Indonesian migrant workers in Malaysia.
As I argue in "Bringing the Border to Baby" (Petrozziello, 2019), this trend raises concerns regarding the gendered ways in which women can be controlled via their reproductive lives when childbirth is made a juncture of migration enforcement, and children's right to an identity and a nationality violated as a result. How many unregistered children will be made stateless, unable to access citizenship anywhere?
My doctoral research tracks exclusionary birth registration practices around the world in order to produce a global inventory, with more in-depth case study research in the Dominican Republic. The inventory includes birth registration practices where the process is entangled in migration enforcement or there has been contestation or legal challenge. With Laurier support, I also gathered examples of these practices while facilitating a workshop with professionals from the UN and civil society networks at the World Conference on Statelessness & Inclusion in The Hague.
The Dominican case study builds upon prior research I led on gender and statelessness among people of Haitian descent. A doctoral fellowship from the International Development Research Centre in Ottawa is supporting follow-up research on the ways birth registration continues to be obstructed for descendants of Haitian women, despite efforts to regularize migrants and naturalize their descendants.
What does birth registration as a bordering practice reveal about the relationship(s) between gender, racial and ethnic discrimination, migration governance and statelessness? Feminist migration scholarship is helping me to think about migrant women's bodies as a scale on which international politics play out. Antiracist and decolonial scholarship help to recognize entrenched patterns of protecting white women's mobility and reproduction while curtailing that of non-white women. Administrative systems for registering birth are the latest iteration of longstanding forms of social exclusion in far too many places. When we map this out across space, we begin to see racialized others being geopolitically and legally manoeuvred out of existence, proof of birth denied.
Fortunately, change is coming. Efforts are underway to eliminate gender discrimination in nationality laws, eradicate statelessness, and strengthen civil registration systems in order to achieve the sustainable development goal of providing legal identity for all by 2030, including birth registration. In engagements with all these stakeholders, I have advocated for an intersectional feminist approach. 'Strengthening' must start from the premise of non-discrimination and fulfilment of the fundamental human right to a nationality for all, lest the children of pregnant people on the move be left behind.
About Allison
Allison Petrozziello is a feminist migration researcher and human rights advocate who is pursuing a PhD in Global Governance at the Balsillie School of International Affairs, a joint program run by Wilfrid Laurier University and the University of Waterloo. A specialist in gender, migration, human rights, and development, Petrozziello has over 15 years of experience in applied research and international development work in Central America and the Caribbean with actors ranging from grassroots NGOs to the United Nations. She has brought this experience to bear in Laurier classrooms as contract faculty in Political Science and Women and Gender Studies.
Gender on the Move, a training manual she wrote for UN Women, has been published in four languages and used around the world to shift thinking and action on migration and development from a gender and rights-based perspective. Her academic work has been published in International Migration, Gender & Development, and The Statelessness and Citizenship Review.
Petrozziello is a Trillium scholar who is affiliated with Laurier's International Migration Research Centre, the International Development Research Centre (doctoral fellow), and the Caribbean Migrants Observatory (OBMICA, Dominican Republic). She holds a BA in Women's Studies from Smith College and an MA in International Development and Social Change from Clark University.
Additional Reading
Allison Petrozziello
Networks
Organizations

Events/Campaigns
Identification Development Initiatives
Resources
Related Publications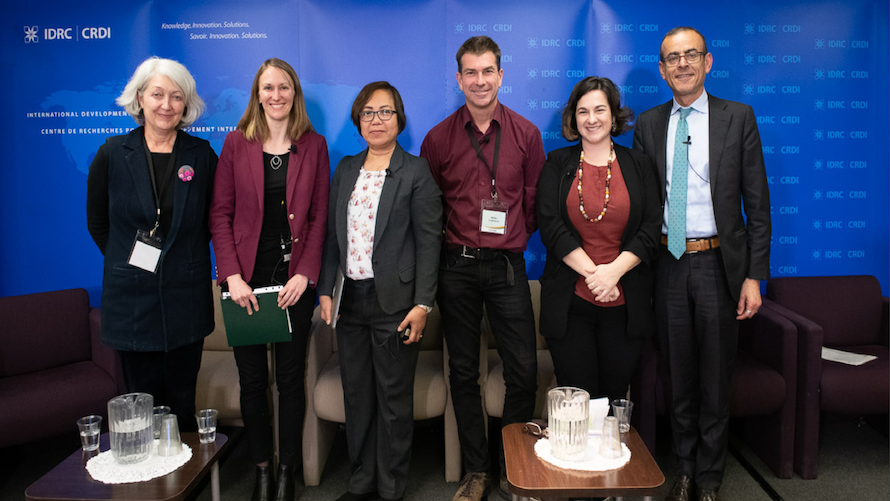 Photo above: In February 2020, Allison (second from right) was invited by the IDRC to present her research on a high-level panel with colleagues from the UN Population Fund, UN Refugee Agency, and national policymakers. Panelists from technical session on "Exploring How CRVS Systems in Conflict, Emergencies, and Heavy Migration Situations Contribute to Protecting Women and Children".

From left to right: Rachel Snow, Chief, Population and Development Technical Division, UNFPA; Elene Berube, Senior Legal Officer/Head of Protection Unit, UNHCR Canada;  Rosalinda C. Apura, Regional Director, Philippine Statistics Authority; Martin Clutterbuck, Counselling and Legal Assistance Regional Advisor for the Middle East, Norwegian Refugee Council; Allison Petrozziello, Gender and Migration Specialist and PhD Candidate, Wilfrid Laurier University; Marwan Khawaja, Chief, Demographic and Social Statistics Section, UN-ESCWA.
Video Presentations
"Birth Registration as Bordering Practice in the Dominico-Haitian Borderlands"  presentation at the (Re)Imagining Belonging in Latin America and Beyond virtual conference, University of London, June 2021, beginning 2:12
"Statelessness, gender and intersectionality" presentation at the World Conference on Statelessness & Inclusion, Grand Challenge panel "Getting to Women's Equal Citizenship: What hurts & what works?" The Hague, Netherlands, June 2019.
"Obstacles to Birth Registration for Migrant Women's Children" presentation at the Connecting Vital Events Registration and Gender Equality (ConVERGE 2020) conference, International Development Research Centre, Ottawa, February 2020.