Though it was held online for the first time in its 11-year history, Laurier's Empty Bowls fundraiser raised $10,547 for the Food Bank of Waterloo Region, double what the event raises in a typical year. The donation will provide 31,641 meals for those in need in Waterloo Region.
More than 250 people registered for the virtual event, which was held via Zoom on May 19. Community and government leaders in attendance included Bardish Chagger, Member of Parliament for Waterloo, four municipal councilors, and executives from TheMuseum, the Cowan Foundation, the Kitchener Waterloo Community Foundation, the Kitchener-Waterloo Multicultural Centre and Immigration Waterloo Region.
"We were extremely thrilled with the turnout and support we received within the Laurier community and public at large," says Suzanne Luke, curator of Laurier's Robert Langen Art Gallery and organizer of the event. "During this global pandemic, the Food Bank of Waterloo Region needs our help more than ever, so it was important to move forward with the event."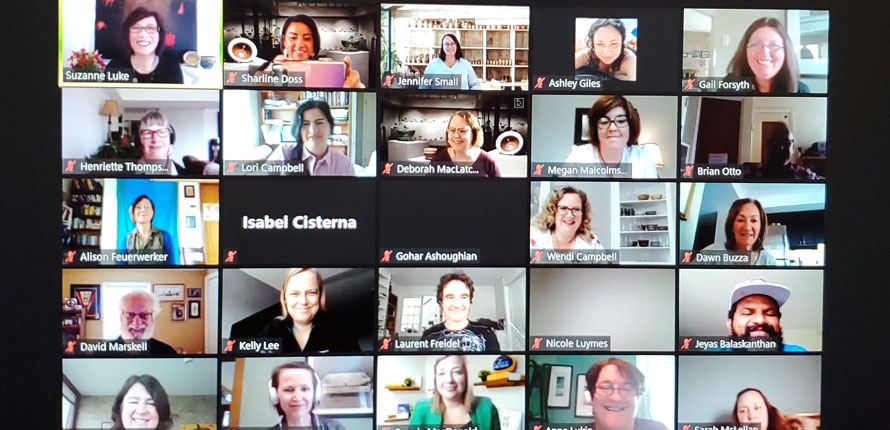 The annual Empty Bowls event is typically held in person at the Library on Laurier's Waterloo campus, with a maximum attendance of 125 people. Ticket holders select a bowl, handmade by members of the Waterloo Potters' Workshop, and enjoy a variety of gourmet soups.
This year, three soup recipes from Laurier Food Services, the Wilfrid Laurier University Students' Union and Veritas Café were shared during the virtual event: beer and cheddar cheese; chicken and wild rice; and creamy asparagus. The first 125 registrants for the event will receive a bowl, which they can pick up once the Waterloo campus and art gallery reopens.
Speakers included Deborah MacLatchy, Laurier's president and vice-chancellor; Wendi Campbell, chief executive officer of the Food Bank of Waterloo Region; Jennifer Smalls, a member of the Waterloo Potters' Workshop; Luke, curator of the Robert Langen Art Gallery, which is located in the Waterloo campus Library; and Gohar Ashoughian, university librarian.
Music alumna Ashley Giles performed on violin, along with her father, Edwin, who accompanied on the accordion. The event also included trivia questions and prizes, as well as videos highlighting the impact of community donations to the Food Bank of Waterloo Region and the creative process of clay bowl-making by the Waterloo Potters' Workshop.