Nov. 28, 2019
For Immediate Release
Print | PDF
Waterloo – A Wilfrid Laurier University graduate student has received a prestigious provincial Hilary M. Weston Scholarship for her work in the field of mental health. This marks the third year in a row a Laurier social work student has won the scholarship, of which only two are awarded across the province annually.
Megan Gauthier, a first-year student in the Master of Social Work program based at the Lyle S. Hallman Faculty of Social Work in Kitchener, received the award for her work on the effects of psychological trauma on mental health. Laurier social work doctoral students Jennifer Scarborough and Julia Read are previous winners of the award, which is named after the 26th lieutenant governor of Ontario. 
"We're extremely proud of Megan, who is an outstanding student already making a positive difference in the lives of people healing from trauma," said Dawn Buzza, dean of the Faculty of Social Work. "That she is the third Laurier student in a row to receive a Hilary M. Weston Scholarship highlights the provincial and national excellence of our social work programs."
Gauthier's undergraduate research focused on fear of needles, which sparked an interest in how negative childhood experiences can influence subsequent mental-health challenges.
"I'm extremely honoured to have been chosen for this award, especially as a first-year master's student" said Gauthier. "The award money will allow me to continue my master's education and take additional trauma-specific training, which will be beneficial because I'm aspiring to be a trauma counsellor."
Through her volunteer positions with the Canadian Mental Health Association and Kids Help Phone, and work experience as research coordinator at a camp for children affected by serious illnesses, Gauthier solidified her determination to help people who have experienced trauma. After completing her undergraduate degree, she spent a year and a half as a psychoeducational facilitator and residential program coordinator at Stonehenge Therapeutic Community, a Guelph centre for addictions recovery, where she still works part time.
"For me, it's so inspiring to witness the strength and resiliency of my clients and how every day, they wake up in search of a better life," said Gauthier. "Listening to their stories of pain and resilience have been imperative in helping me find my path, which will focus on using my privilege of education to empower others."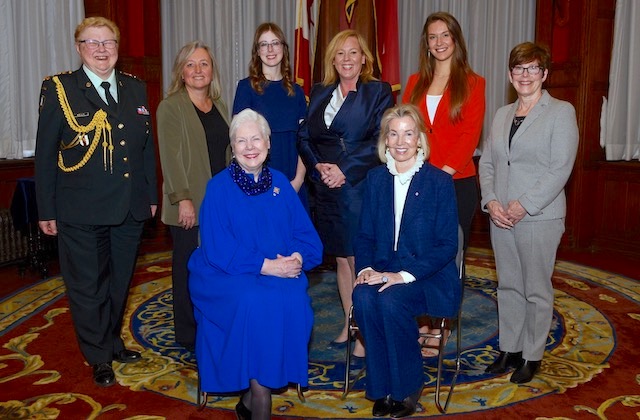 Gauthier received her award, along with Jessica Gardner of the University of Ottawa, at a ceremony in Toronto on Nov. 26. In addition to her experiential learning opportunities, she credited her classroom training. 
"Laurier is an amazing school for social work," said Gauthier. "Not only are the professors extremely knowledgeable, with so much experience they're willing to share, my colleagues in the program also have so much to contribute from their different backgrounds. I feel like I'm learning from everyone I meet."
The deadline to apply for the next Hilary M. Weston Scholarship is Dec. 15.
Learn More