Nov. 22, 2019
For Immediate Release
Print | PDF
Waterloo – Wilfrid Laurier University's Lazaridis School of Business and Economics welcomes the public to attend presentations by second-year Bachelor of Business Administration (BBA) students at its IKEA Sustainability Challenge on Friday, Nov. 22. Five finalist teams will present their ideas to IKEA executives for the chance to win an interview for an IKEA internship, as well as scholarship prizes.
IKEA executives asked Lazaridis business students to propose solutions to enhance IKEA Canada's store concept to create an engaging shopping experience for today's tech-savvy consumers. Students were also asked to consider the company's goals of becoming more sustainable, accessible and affordable.
"This competition positions our business students to apply their creativity and knowledge to a real business problem," said Micheál Kelly, dean of the Lazaridis School. "It is one of many immersive learning opportunities designed to prepare them for the business world upon graduation."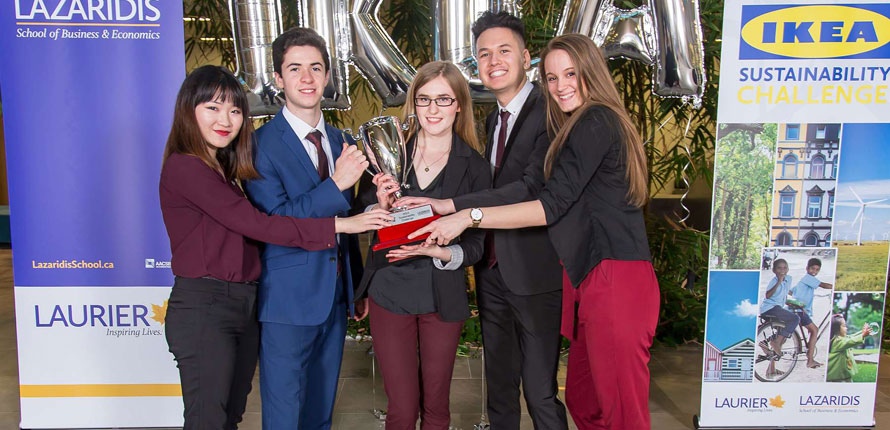 The winners of last year's IKEA Sustainability Challenge. 
For the challenge, students were asked to form their own teams of three to five participants and submit a written proposal to address the question from IKEA. Semi-finalist teams toured IKEA Burlington to help them prepare a video presenting their idea.
The Nov. 22 presentations to IKEA executives will be 10 minutes each and include a question-and-answer component.
The IKEA Sustainability Challenge, now in its fifth year, kicked off on Oct. 22 with a visit from Michael Ward, CEO and chief sustainability officer at IKEA Canada, who is also a graduate of Laurier's BBA program. This is one of IKEA Canada's first partnerships with a post-secondary institution. The idea was brought forward by Ward with the goal of raising awareness about sustainability issues as an important principle of business practice.
The IKEA Sustainability Challenge Finals will be held Friday, Nov. 22 from 3 to 6 p.m. in Lazaridis Hall, room 1001, 64 University Ave. W., Waterloo, Ont. Pay-and-display parking is available behind the building.
All are welcome to attend. Please RSVP to Kate Tippin, Lazaridis School director of marketing and communications, at ktippin@wlu.ca.