April 22, 2019
For Immediate Release
Print | PDF
Waterloo – Wilfrid Laurier University's Faculty of Music will host a gala event featuring Isabel Bayrakdarian, a four-time Juno Award-winning opera singer and Laurier honorary degree recipient, and the brilliant Penderecki String Quartet, Laurier's Quartet-in-Residence. The dinner and concert, which takes place May 14 at Lazaridis Hall on Laurier's Waterloo campus, will also launch the faculty's Making Space for Music fundraising campaign to renovate and expand the Faculty of Music facilities.
Isabel Bayrakdarian has sung regularly at all the major opera houses, including Metropolitan Opera, Lyric Opera of Chicago, Canadian Opera Company, Los Angeles Opera, Salzburg Festival, London's Royal Opera House and Paris Opera. As an ever-active concertizer, she's also appeared with the premier orchestras of North America and Europe. She is currently on the Voice Faculty at University of California Santa Barbara, serving as associate professor. As well as performing at the gala, Bayrakdarian will be giving a VoiceLab masterclass for select Laurier Voice students.
"I'm thrilled to come back to Wilfrid Laurier University to perform with the wonderful Penderecki String Quartet, in support of the Making Space for Music campaign. Laurier holds a very special place in my heart, and I'm honoured to be part of its growth and exciting future."
The Penderecki String Quartet (PSQ), featuring Jeremy Bell, Katie Schlaikjer, Jerzy Kaplanek and Christine Vlajk, has been performing internationally for three decades and has been the Quartet-in-Residence at Laurier for 27 years. The PSQ performs a wide range of repertoire from "Haydn to Zappa" as well as premiering new works.
A portion of the ticket price to this one-of-a kind concert – this is the first time these two acts have performed together – will go towards the Music Faculty's Making Space for Music Campaign. The campaign will support the renovation and expansion of Laurier's current music building, transforming it into a vastly improved space for teaching, practising, rehearsing and performing. An exceptional new entranceway, lobby and practice rooms will allow increased opportunity for music students to develop their craft and the public to take part in Laurier's music programming, while creating a dramatic new gateway to Laurier's Waterloo campus along University Avenue.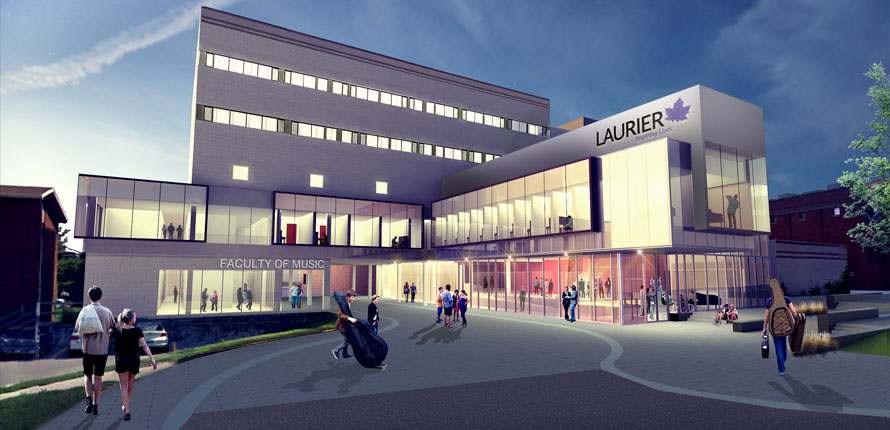 "In these complex times, music is a social and cultural catalyst for communities worldwide," said Glen Carruthers, dean of the Faculty of Music at Laurier. "Laurier is a vital partner in the local, national and international musical community. We urgently need to redesign our facility so that it truly reflects and supports the tremendous musical talent at Laurier."
The event will take place in the Lazaridis Hall Atrium and Lecture Hall, located at 64 University Ave. W. in Waterloo. In addition to the concert, the evening will include a cocktail reception at 5:15 p.m. and dinner at 6 p.m. Tickets are $175 and will come with a charitable tax receipt for a portion of the ticket price. For more information and to purchase tickets, visit: give.wlu.ca/music.
About Laurier's Faculty of Music
Laurier's renowned Faculty of Music is dedicated to fostering artistic and scholarly development of the highest calibre and to providing a creative environment for student success. Music students, faculty and outside artists present upwards of 100 concerts and events a year to the public. The faculty offers three undergraduate programs: a classically inspired Bachelor of Music, Canada's only Bachelor of Music in Community Music and Ontario's only Bachelor of Music Therapy. Laurier's graduate programs include a Master of Music Therapy and a Master of Arts in Community Music and diploma programs including a Chamber Music Diploma and an Opera Diploma.
About Laurier
Wilfrid Laurier University excels at educating with purpose. Laurier's holistic approach to learning integrates innovative programming with hands-on experience outside the classroom to ensure Laurier graduates are not only ready for the real world but are inspired to leave their mark on the world. Community is at the heart of all we do. Laurier inspires students to engage in campus life and the broader community, leading to high levels of student satisfaction and engaged alumni who carry the Laurier legacy throughout the world. As a community of researchers, leaders and educators, Laurier builds knowledge that serves society and creates connections that have a lasting impact.
Learn more about Laurier's 19,000+ students in nine faculties in Waterloo, Brantford, Kitchener and Toronto at wlu.ca.